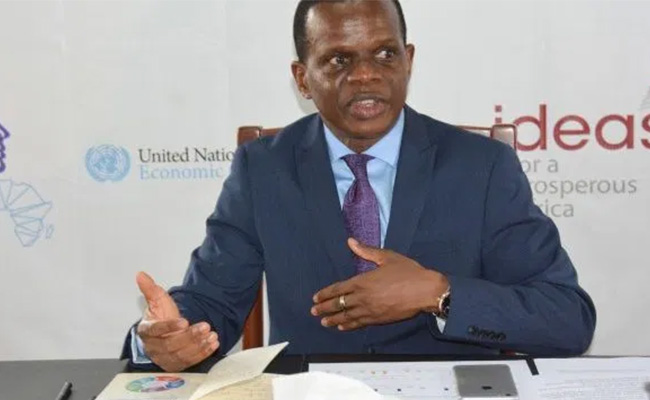 Economy
March 30, 2020
We have never stopped reminding ourselves about the futility of running a monoculture economy. In fact, this was why this platform – Non-oil Digest and its sister online platform – www.realsectornow.com, were created. It is therefore interesting news that the coronavirus pandemic is reminding us of the urgent need for us to diversify our economy and free ourselves from the prison that our largely one-product economy has put us.
The monoculture economy that we run is one that is largely dependent on revenue earned from the oil sector. According to the International Monetary Fund (IMF), the sector accounts for over 95 percent of export earnings and about 40 percent of government revenues.
The tag 'major exporter of oil' placed on Nigeria, one that is making us giddy and which has given rise to corrupt government officials and business barons, amounts to nothing since Nigeria produces only about 2.7 percent of the world's supply. Though ranked as 15th in production at 2.2 million barrels per day (mbpd), the top three producers Saudi Arabia, Russia, and the United States produce 10.7 mbpd (11.8 percent), 9.8 mbpd (12.0 percent), and 8.5 mbpd (11.1 percent) respectively, collectively accounting for 63.6 mbpd (44 percent ) of the world's total production. These are 2013 figures. Latest figures have not changed significantly. Currently, these three produces 12.0, 15.0 and 10.8 mbpd respectively (US is now leading producer) whilst Nigeria's is 1.9 mbpd, down from 2.2 mbpd. These numbers change by the day, but the trend remains the same.
In total, oil revenues, put at an estimated export rate of 1.9, with a projected sales price of $65 per barrel in 2011, Nigeria's anticipated revenue from petroleum was about $52.2 billion. This accounted for less than 14 percent of official GDP figures (and dropped to 10 percent when the informal economy is included in these calculations). What this means in effect is that though the petroleum sector is important, it is an infinitesimal part of the country's economy whose other constituents are agriculture, solid minerals, and services (the non-oil sector).
These figures are now changing steeply on the heels of the scourge of coronavirus. According to Quartz Africa report, as oil prices sank while global demand drops drastically in the wake of the outbreak, Nigeria's economy is being caught in the cross-hairs. Essentially, with oil being Nigeria's biggest export, the government relies heavily on the resource for dollar earnings to fund its national budget. And with this year's $37 billion budget passed with a benchmark oil price of $57 per barrel—nearly double its current price of around $31 to $33, Nigeria, Africa's largest economy, cannot currently fund its budget. As at the time of writing this piece, it has fallen to $29. And will most likely fall further.
One unfolding effect, the report says, is a US dollar shortage that is already manifesting on parallel forex markets with the informal dollar dealers who often operate just in front or across the road from airports and top hotels in the business districts of Lagos and Abuja.
It notes that with Nigeria's naira official exchange rates fixed by the country's Central Bank, these black market operators often deliver a more accurate verdict on the levels of supply, demand and prices; "that over the past two days", naira to dollar exchange rates—which have stayed quite stable at around 360 naira to the dollar since mid-2017—have reached 430 naira.
According to a NAN report, the International Energy Agency in its latest forecast also stated that global oil demand was expected to decline in 2020 as the impact of the new COVID-19 spreads around the world, constricting travel and broader economic activity. It states that Nigeria, among others, has cause to be concerned, as the global spread of coronavirus, and the continuous drop in the price of crude oil in the international market would take a heavy toll on the nation's economy as oil and gas account for over 90 per cent of Nigeria's foreign exchange earnings and more than 60 per cent of the country's earnings.
The report states that currently, with developments in the international oil and gas market, Nigeria's major revenue earner, the country's economy is under threat and that the National Bureau of Statistics in its Foreign Trade Statistics Report for the Fourth Quarter of 2019, had stated that the major buyers of Nigeria's crude oil are India, Spain, Netherlands, France and South Africa, among others.
These countries have recorded cases of the coronavirus and the disease had impacted negatively on their economies. To reaffirm its impact on the oil and gas sector in Nigeria, the reports states the Group Managing Director of the Nigerian National Petroleum Corporation (NNPC), Malam Mele Kyari, said that the coronavirus pandemic was taking its toll on the Nigerian economy. He said that currently, the country is having difficulties finding buyers for about 50 cargoes of crude oil and 12 Liquefied Natural Gas (LNG) cargoes.
And according to the Organisation for Economic Co-operation and Development (OECD), "The world will take years to recover from the coronavirus pandemic."
Angel Gurría, OECD secretary general, said the economic shock was already bigger than the financial crisis.
Do will need to know more to get us kicking? Do we need to know more to make us commence steadfast exploitation of our bitumen deposit and other solid minerals and fully give the right focus to agribusiness?