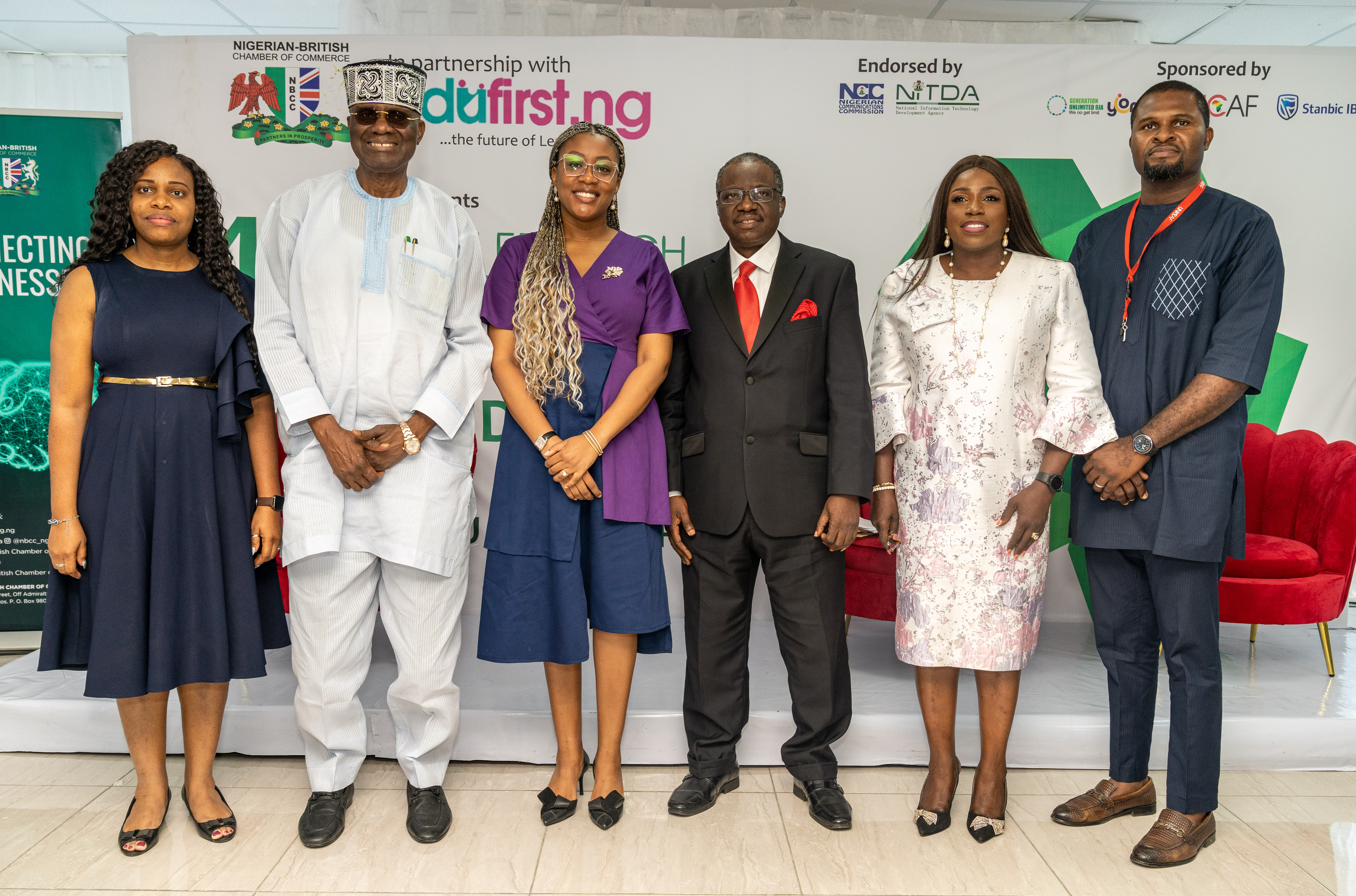 NBCC News
October 27, 2022
With technology rapidly evolving and the rising need to upscale educational models to effectively reawaken the long search for transformative education, built on the tripod of digitalization, education financing, and the future of work, the Learning, Education, and Training (LET) Group of the Nigerian-British Chamber of Commerce (NBCC) in Partnership with EduFirst.ng hosted the Fourth African EduTech Conference themed "Africa's EduTech Model: Reshaping you for the Future" to advocate this concern.
Recounting the global impact of the Covid-19 pandemic on the learning population, the President and Chairman of the Council, NBCC - Bisi Adeyemi, stated that "this unexpected global event caused a huge shift in the way Africans access learning tools as the majority of schools had to adapt to the learning-from-home education model, which makes the topic, Africa's Edutech Model: Reshaping You For The Future, a timely discourse."
She expressed her confidence that "this eminent assembly of subject matter experts will provide diverse and illuminating perspectives which would open our minds to the tremendous opportunities for growth and development in the education sector …"
In her keynote address, Celine Lafoucriere, Chief, UNICEF Lagos Office, noted that "Education has faced significant difficulties around the world and even before COVID..." The future lies in educators' professional growth and capacity-building efforts that promote in-person, online, and digital learning.
The Conference hosted panelists such as; Prof. Ismail Adedigba - Director, Research and Development, Nigerian Communications Commission, NCC; Dr. Femi Majekodunmi, Chairman, Ogun State Universal Basic Education Board (SUBEB); Oluwafemi Apena, Country Director, UNICAF; Foluso Gbadamosi, Executive Director, Junior Achievement Nigeria; Mohammed Mahmoud, Technical Assistant to the Minister of Education, Fed. Min. of Education; Chizor Malize, MD/CEO, Financial Institutions Training Centre, FITC; Tim Akano, CEO, New Horizon; Julios Ilori, Founder and CEO, Learners Corner Education Hub; Adekanla Adegoke, Head, Oando Foundation; Isaac Olawole Joseph (Certified Microsoft Innovative Educator, University of Ibadan, Nigeria); Teju Abisoye, Executive Secretary, LSETF; Adewale Oyerinde, Director General, NECA; and Yetunde Abimbola Baderinwa - Lagos State Coordinator, NYSC.
The technical exhibition by students from Queens College and Kings College in Lagos, which showcased their creative technology advancements for the benefit of humanity and provided evidence of the numerous efforts made to reshape the future of Africa, was the conference's notable highlight.
Seyi Adeyemi, Chairman, LET Group, NBCC, cited the numerous difficulties in catching up with industrialized nations in his introduction remarks. These difficulties are due, among other things, to the poorly managed education sector, social security problems, and cynical government policies.
The Nigeria Communications Commission (NCC) and the National Information Technology Development Agency (NITDA) endorsed the Conference, which was sponsored by UNICAF, Stanbic IBTC, YOMA, and Generation Unlimited (Gen U).
This is a step in the right direction toward closing the continent's educational gap as well as the start of a more developed and capable industry that is well-suited to long-term goal achievement.