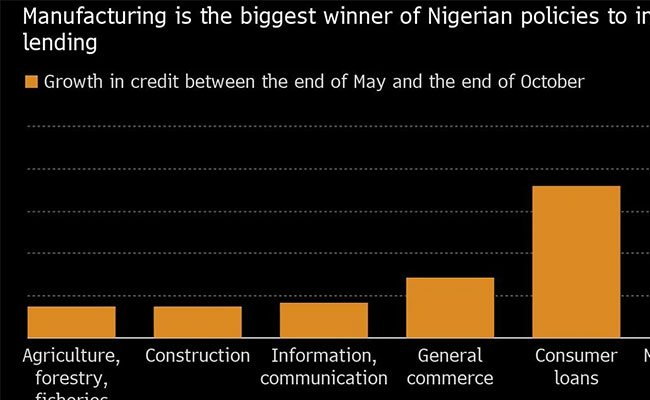 Finance
December 9, 2019
Nigeria's manufacturing sector is the biggest winner of central bank policies that have forced lenders to extend more credit to the private sector.
Lending to manufacturing companies in Africa's most populous country from May to the end of October totalled 459.7 billion naira ($1.3 billion), the most in two decades, Central Bank Governor Godwin Emefiele told reporters recently in Abuja.
The output from manufacturing firms was up 1.23% in the three months to September with the contribution to real GDP at 8.74%, the country's National Bureau of Statistics said in a report last week.
The central bank in November gave lenders until the end of the year to boost their loan-to-deposit ratios to 65% or risk being fined and expects economic growth to pick up as a result of the policy. Citigroup Inc. and Zenith Bank Plc were among a dozen lenders punished by the bank for failing to meet an earlier target to lend at least 60% of their deposits by end of September.
Nigeria's Monetary Policy Committee held its benchmark rate for a fourth straight meeting, saying the surge in inflation to a 17-month high after the country closed its borders is just temporary.
"The committee urged the management of the bank to sustain its current effort to improve lending to the private sector and to explore other initiatives to provide funding to the other critical sectors of the Nigerian economy," Emefiele said.