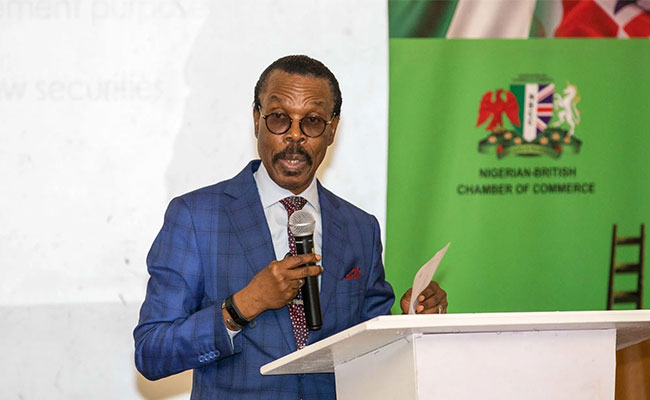 Latest News & Updates
January 23, 2020
Mr Bismarck Rewane, Chief Executive Officer, Financial Derivatives, on Thursday projected Nigeria's Gross Domestic Product (GDP) growth to remain flat at 2 to 2.2 per cent in 2020.
Rewane made the projection at the January Breakfast Meeting organised by the Nigerian-British Chamber of Chamber in conjunction with British Airways, Union Bank and Red Star Express in Lagos, with the theme "2020 Economic Outlook"
The financial expert explained that the projections were well below the levels needed to boost job creation and increase in standard of living.
According to him, the government might need a supplementary budget to fund widening revenue gaps.
"Multiple exchange rates would persist, a high possibility of more forex restrictions and inflation to average 11.3 per cent to 11.5 per cent in 2020.
"Interest rate is expected to increase in Q2 of 2020 to curb rising inflation and stem capital flight.
"We may be back in recession if we do the wrong things, do nothing or dumb things,"he said.
Rewane, a member of the President's Economic Advisory Council, said that the agriculture sector had recorded positive growth in the last six quarters and contributed highly to the GDP in the second quarter of 2019 at 23 per cent.
He advocated increased government support and intervention for more growth.
According to him, positive growth is expected to continue in the short to medium term if government shows commitment to grow non-oil revenue.
Rewane said that benefits from the border closure were expected as local production met growing demands.
He, however, said that a country as large as Nigeria could not run a closed border policy.
On the banking industry, Rewane projected a fundamental shift in market dynamics, possible consolidation and increased competition, increasing financial disintermediation and declining yields as the Central Bank releases new capital requirements for banks.
Also,he said that a shift from bank-based economy to market-based economy was expected, and a fortress balance sheet was a necessity for strong footing.
Rewane said the trade sector was expected to expand in short to medium term due to its benefits from bank's increased lending to private sector, increasing population, urbanization, technological innovation and growing retail market.
Speaking on the Finance Act, Rewane posited that it was expected to strengthen the fiscal position of the state governments and lower borrowing requirements.
He said it would impact positively on growth, liquidity in the banking sector and financial performance.
According to him, negative impact should be expected on inflation, disposable income, stock market capital and performance and real estate; and neutral on external reserves, exchange rates and banks soundness indicators.
The finance expert said that the cost-reflective electricity tariff was expected to incentivise investment within the power value chain.
He said that positive impact on inflation, growth, exchange rates, external reserves and stock market was expected while negatives was seen on disposable income, and neutral on real estate, liquidity in banking system, financial performance and banks soundness.
On infrastructure, the financial expert projected that the Lagos-Ibadan Railway which is to commence in the third quarter of 2020 showed positive impacts on disposable income, growth, external reserves and real estate.
It, however, projects negatively on inflation, and neutral on liquidity in the banking system, financial performance of banks, banks soundness, exchange rates and stock market capital and performance, he said.
"The commissioning of the 4 new airport terminals showed negative effects on inflation and disposable income, positive on growth, exchange rates and external reserves.
"It showed neutral on real estate, stock market cap and performance, bank soundness, financial performance and liquidity in the banking system.
"The deep sea ports in Lekki which is expected to be completed this year is expected to most likely support the growth of commercial operations within the region.
"As a result, positive impact is expected on growth, financial performance, liquidity in the banking sector, bank soundness, Naira exchange rate, external reserves, stock market cap and performance.
"It is however negative on inflation and disposable income and neutral on the real estate parameters,"he said.
On the adoption of eco currency, Rewane said convergence criteria include maintaining a budget deficit of less than 5 per cent of GDP, annual inflation rate of less than 10 per cent, public debt ratio of less than 70 per cent of GDP and a minimum of three months import cover.
Addressing cashless policy and Payment Service Banks (PSB) licensing, he projected that reduced cost of banking services and financial inclusion drive for the year 2020 was expected.
He also stated that an improved performance in the United Kingdom was expected, driven by the certainty surrounding Brexit.
Rewane projected that the Naira might come under pressure in 2020 and terms of trade was expected to decline by 2.99 per cent to 26.0 per cent, while external reserves could slide to $38bn before the end of Q1 of 2020.