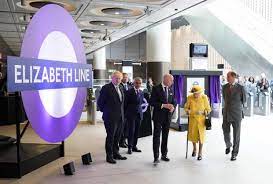 UK News
May 27, 2022
The first Elizabeth line trains to carry passengers through the new tunnels beneath London left on time on Tuesday, ushering in a new era of greater speed, space, and comfort – "fit for a Queen, and Londoners," said Mayor Sadiq Khan.
Hundreds of people braved the rain to wait for the first train from Paddington through central London on the Crossrail line, which opened a week before the Queen's platinum jubilee celebrations. Cheers greeted the opening of the gates at 6.18 a.m., as Khan and the TfL commissioner, Andy Byford, stepped back to allow the first customers to rush past, without a moment to wipe their feet on their way into the pristine new station.
Khan described himself as "excited – like a little boy on Christmas Eve, waiting for Santa." The monarch visited Paddington last week, officially opening the line three and a half years after she was first invited. "We now know it's fit for a Queen – and for Londoners," he continued.
To commemorate the occasion, London landmarks ranging from the London Eye to the Tower Bridge were lit in purple overnight. Meanwhile, Vernon Kerswell, 34, a train designer, had been at the head of the queue outside Paddington since midnight. "It's been a long night, but it's been very exciting," he said. Hundreds more had joined by 4 a.m., with those at the front travelling from Scotland, Dorset, and other locations to be among the first to board.
Nic Stevenson from Christchurch, along with his seven-year-old son Eddy, was one of several families who had taken their children on a historic trip. "We're cold and wet, but we're happy," he said.
Most people on the platform agreed that it was well worth the wait. Cheers welcomed the PA, who was "delighted to announce the first eastbound train to Abbey Wood" as throngs swelled the platform. He quickly retracted, "this one is not stopping here" But no one seemed to mind today. The clean platform doors were welcomed with further cheers. Despite the crowds, everyone who wanted a seat received one.
A larger crowd had gathered outside Abbey Road for what was legally the first Elizabeth line train to depart for the new central section, despite the fact that it was delayed by slightly over a minute. The train arrived at Abbey Wood in less than 20 minutes, after a long and hard cross-city journey from Paddington just a few hours before. Arriving passengers were greeted with whoops and joyful talk, which are generally frowned upon on the subway.
The early Abbey Wood queue took five trains to clear, thanks to train managers funnelling customers straight to the platform entry. The station speaker did not inform passengers until later in the morning peak that "all entrances to the new, wonderful, Elizabeth line are now open."
Despite being slightly delayed by over a minute, a larger crowd had gathered outside Abbey Road for what was legally the first Elizabeth line train to depart for the new central section. (Purists may have intended to travel from Paddington to Heathrow at 6.30 a.m. to be among the first passengers on the Elizabeth line, but only on the existing TfL Rail services.)
After decades of planning, construction on the £19 billion route (£20 billion including trains) began in 2009. The centre portion was supposed to open in 2018, but the overly optimistic schedule collapsed as engineers attempted to build an incredibly complex track with ten new stations in central London.
The Elizabeth line will operate as three separate railroads until September, with travellers on old TfL Rail services in the west and east having to change at Paddington or Liverpool Street stations to continue on the newly opened centre section. Commuters are expected to flock to the line in droves after September when trains will operate directly from Shenfield, Reading, and Heathrow to destinations around central London.